Headlands was published last year – a book of people's real life experiences of anxiety. I was one of the contributors. Now, the book is being made into a series of films – but we need your help to make it happen.
Headlands did something crucial. It opened up the anxiety experience, allowing people who live with it to have a voice – and giving insight for those who don't know what it's like to have this illness.
Now, the book is set to become a film anthology of up to 19 short films, adapted from and inspired by 19 essays.
For the project, each writer has been paired with a film maker. My partner is Julie Zhou, an Auckland-based film maker whose projects have addressed themes like racism, representation and diversity – though she recently also wrote an exceptional speech about the fatigue associated with those words.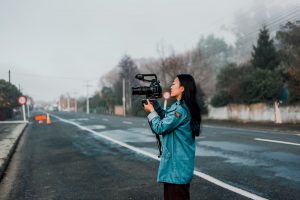 So far, Julie and I have had Skype sessions discussing ideas for how my essay Water Wings might be adapted. I had to get my head around the fact that this isn't a biographical documentary – it won't necessarily have the same narrative, the character won't look like me. Now, I'm excited about seeing Julie's interpretation and her talent at work. She'll visit Nelson in November so we can progress the project.
Meanwhile, HEADLANDS is launching a crowd-funding campaign to support the participants to write scripts and treatments so that the films are ready to go into production in 2020.
The campaign officially begins tomorrow, but it's live now: www.boosted.org.nz/projects/headlands
There will be a signed book giveaway, which will be announced 10 minutes after the 9am launch on Facebook tomorrow. The first 10 people to donate $100 or more will get a free copy of the signed book.
Meanwhile, you can follow @HeadlandsFilm on Facebook for more info and updates.
Please spread the word! This is such an important project that really, really needs to be made.