The Nelson fires are not under control, say Civil Defence, and the State of Emergency will stay in place until at least Wednesday. Here's a list of how you can help.
This post is an update to my post from Saturday – A tale of terror and how you can help Nelson. Some of the information is replicated but this is the most up-to-date, as at 11am Monday.
A note – I and many others have noted that it's been difficult to get the right information when we needed it. Wading through media reports is arduous, and Civil Defence are doing their best.
I understand we're in a State of Emergency and I appreciate everyone who is attempting to get information out there. Once the event is over and everyone is safe, I would really love to be involved in an assessment of the crisis communications.
 1. At this point, the Nelson Tasman Civil Defence Facebook page is the best source of facts and up-to-date information.
2. If you can offer ACCOMMODATION, FOOD, TRANSPORT, SHELTER FOR ANIMALS, or CLOTHING AND SUPPLIES, you can register as a volunteer with Civil Defence here.
3. For finding out what's needed by the volunteers in the emergency centres, the Nelson Snippets Facebook page is doing an excellent job of sharing updated lists and coordinating offers of help.
This was the list at 10pm last night: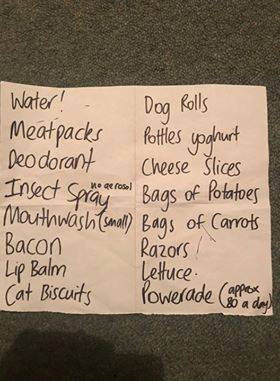 4. Helping Families Nelson are also at the Saxton centre, they have plenty of goods but they need volunteers –
5. If you can't get out to Saxton for any reason, Fresh Choice on Collingwood Street are collecting donations –
6. Anyone can donate to the Mayoral Relief fund:
Tasman District Council
ASB Bank Ltd, Nelson Commercial Banking
Bank/branch account number: 12-3193-0002048-03
Include in the reference "relief fund" and your name and contact phone number.
7. The THANK YOU page is collecting messages for those on the front lines –
7. Nelson DHB has announced that GP visits are free for anyone affected by the fires, and also released information about Wakefield pharmacy access, and mental health support – details here.
I could write for a long time to thank everyone who is out there right now doing their jobs or volunteering. My community is so strong. My father, a counsellor, is on his second day at the showgrounds centre supporting people who are arriving with or visiting their evacuated animals. As you can imagine that's an incredibly upsetting thing for so many people. He's just one person in the massive effort to help everyone who's affected.
I'll update this as needed.